Lenten Resources
Whether you are new to the idea of Lent, or have been observing this spiritual season since you were born, we've created this page to help you to understand why the season of Lent is so important, and to help you get the most out of it!
What? Why? 40 days?!
Click on the following links to find out more information about the origin, purpose, and length of the Lenten season!
______________________________________________________
Worship During Lent
Sunday Worship
Join us on Sundays as we discover the God we can know through the "I AM" statements of Jesus.
9am - Traditional
11am - Modern
Maundy Thursday
A service of worship and reflection, observing the last supper of Jesus, and the night He was betrayed.
Thursday - April 18 - 7pm
Good Friday
A time of remembering the sacrificial love of Jesus; His death on a cross to atone for our sins.
Friday - April 19 - 7pm
Easter Sunday
A celebration of the miraculous resurrection of Jesus Christ.
Sunday - April 21
7am - Sunrise
9am - Traditional
11am - Modern
______________________________________________________
Lenten Practices
Lent is a spiritual journey that draws us closer to God, and there are a variety of ways to observe the season.
Use the following opportunities to get the most out of Lent either at Kodak Church, and in your daily life.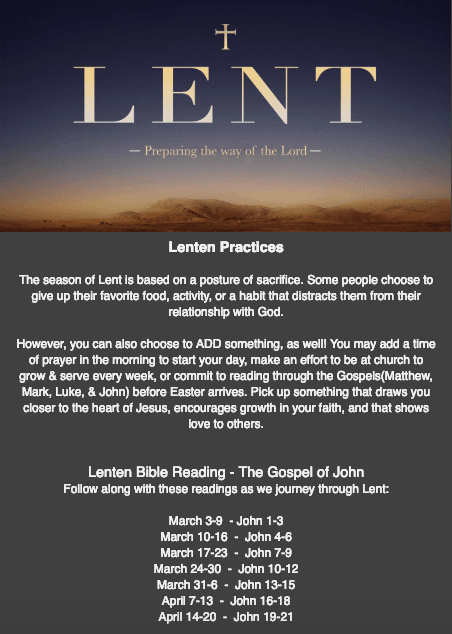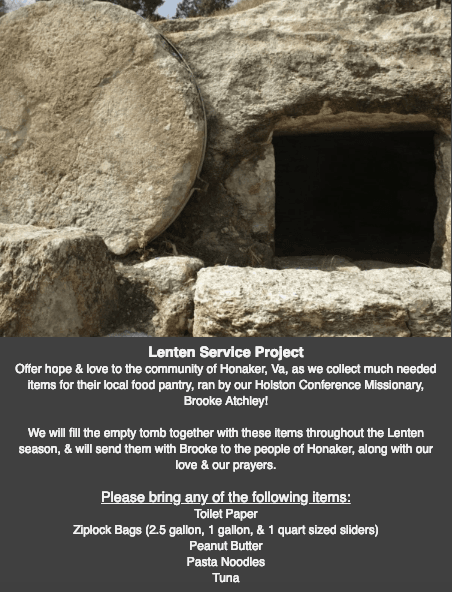 40 Days - 40 Donations
Choose an item from your home for each of the 40 days of Lent to be donated to an amazing local charity, Knoxville Area Rescue Mission!
Bring your items to Kodak Church the week after Easter for KARM's donation truck to pick up!